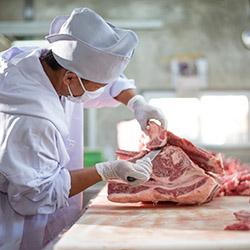 06-23-2021
North Dakota State College of Science (NDSCS) is accepting applications for students interested in obtaining a certificate in Meat Processing, a new program, beginning Fall 2021. Students who enroll in the Meat Processing certificate program at NDSCS will have the gain skills and techniques needed for this high-demand career field.
This responsive and innovative program is a partnership between NDSCS and North Dakota State University (NDSU). Students will enroll at NDSCS and take 15 credits one semester, then spend the first 8 weeks of the following semester being trained at the NDSU Meats Laboratory and finish the semester with an internship at a small meat processing facility and/or retail stores.
"The long-term goal of this project is to increase the availability of new workers for local, retail, and small-scale meat processors by educating students through this collaborative certificate program" said Agriculture Department Chair Craig Zimprich. "Small meat processors are a vital link in the food supply and allow farmers, ranchers, and livestock producers to retain a greater portion of the live animals value locally."
This work is supported by the Agriculture and Food Research Initiative – Education and Workforce Development program, award number 2021-67037-34169, from the U.S. Department of Agriculture, National Institute of Food and Agriculture. Additional information about the program and how to enroll can be found online at NDSCS.edu/Ag.