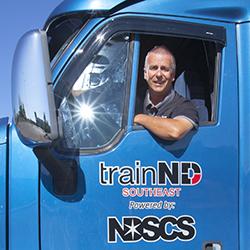 09-15-2020
The North Dakota State College of Science announced today that its Division for Workforce Affairs, in conjunction with TrainND Southeast, expanded the capacity for its Commercial Driver's License (CDL) / Truck Driving training and is now offering additional start dates for individuals interested in the class. The training is offered at the College's NDSCS-Fargo location at 1305 19th Avenue North.
The NDSCS CDL training class is designed to give individuals a good understanding of the trucking industry and prepare them to obtain their Class A CDL through classroom and behind-the-wheel training. Additional information about CDL training at NDSCS, including training cost, start dates and class registration information, can be found online at ndscs.edu/CDLtraining, or by calling 701-231-6922.
The training expansion was made possible through the North Dakota Department of Commerce ND Smart Restart Technical Skills Training Grant. The $30,000 grant was matched by support from area businesses and organizations, including Magnum Logistics, Fargo Freightliner, Dixson Insurance, General Equipment, Mid-America Steel, Baranko Brothers Inc., ND Motor Carriers, Mohr Family – Dacotah Paper Fund of the FM Area Foundation, Pro Transport, FM Area Foundation, RDO Truck Center, Reiles Transfer, TrueNorth Steel, FTC Transport, Insure Forward, E.W. Wylie, Transport Club of FM, Direct Transport, and Custom Graphics.
"We are thankful for this financial support, which allowed us to expand our equipment and staffing to provide additional sessions for our CDL training," said NDSCS TrainND CDL Program Trainer Brian Ware. "This will expand our ability to support area business and industry by providing training for even more individuals as they prepare to take their CDL road test and begin a career in this high-demand field."