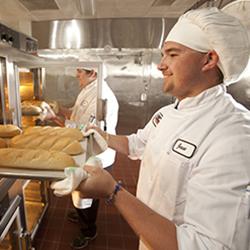 03-28-2017
By Frank Stanko
Jared Wick knows the pressures of competing and setting the best example for his teammates. His playing field just happens to be the kitchen.
Wick, a second year at North Dakota State College of Science, was one of eight culinary arts students who led the school to seventh place at the 2017 Central Regional Culinary Salon Competition. Not only did he represent NDSCS, but North Dakota itself.
"Every knife cut, you want it to be good, just to justify your being captain. It's a pressure, but it's a good pressure," he said. "It taught me to strive more, to work harder and to be a leader."
Held by the American Culinary Federation from Friday, Feb. 3-Saturday, Feb. 4, the 2017 competition took place in Joliet, Illinois. Thanks to the event's point system, NDSCS qualified as a bronze-level winner.
Read the full article online at wahpetondailynews.com.