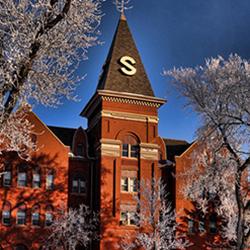 02-10-2016
Spring semester enrollment at the North Dakota State College of Science is 2,951 according to the official census, which is taken on the 20th instructional day of classes each semester. This is the highest spring semester enrollment on record since 1983 and a 7 percent increase over spring 2015.
During the past five years, NDSCS spring enrollment has steadily grown. The number of credits students are enrolled in is also up from 2015 to 30,673 which is the highest since spring 2012. Thanks to persistent recruiting, focused student success initiatives and marketing efforts, the College continues to see remarkable growth at both the Wahpeton campus and NDSCS-Fargo location as well.
"The demand for our graduates remains very high which is supported by our 99 percent placement rating," said NDSCS President John Richman. "Our faculty and staff work diligently to help our students succeed through focused retention and student success efforts while our industry partners contribute to a win-win educational experience."
There are 1,508 full time students and 1,443 part time students, with just more than 45 percent of students residing on-campus at NDSCS in Wahpeton.
Additionally, 71.7 percent of NDSCS students are from North Dakota from 49 counties, while 21.4 percent of students are from Minnesota, 2.5 percent are from South Dakota and 1.1 percent are from Montana.