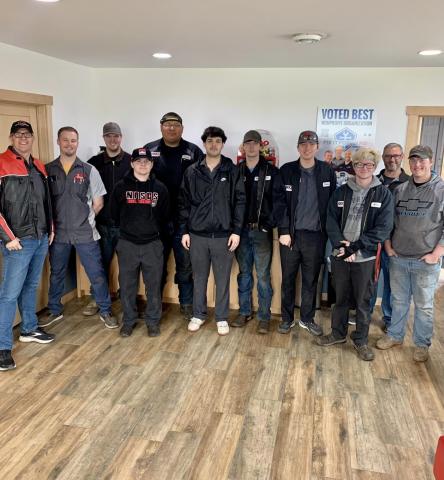 10-16-2023
On Saturday, October 14th, a group of students from the NDSCS Automotive Technology program came together with their instructors, Mr. Pfeiff and Mr. Bitz, for a meaningful volunteer morning at the Fix It Forward Auto Care Center in South Fargo. These students demonstrated the power of community service by using their automotive skills to make a difference.
The Fix It Forward Auto Care Center serves as a place where individuals facing financial hardships can get their vehicles repaired, ensuring they have reliable transportation to work, school, and other essential destinations. Fix It Forward also refurbishes and donates vehicles to people in need.
During their volunteer morning, NDSCS Automotive Technology students rolled up their sleeves and put their skills to good use. They worked on vehicles that would either be donated to individuals in need and did repairs for customers who could not afford them.
Fix It Forward Auto Care relies on the generosity of individuals and organizations to continue its mission. You too can join the cause and "pay it forward" by donating vehicles or labor. Your contribution can make a significant difference in the lives of those who are less fortunate, helping them overcome transportation barriers and fostering a stronger, more inclusive community. To learn more about Fix It Forward Auto Care and discover how you can help, visit their website at https://fixitforwardministry.com/.