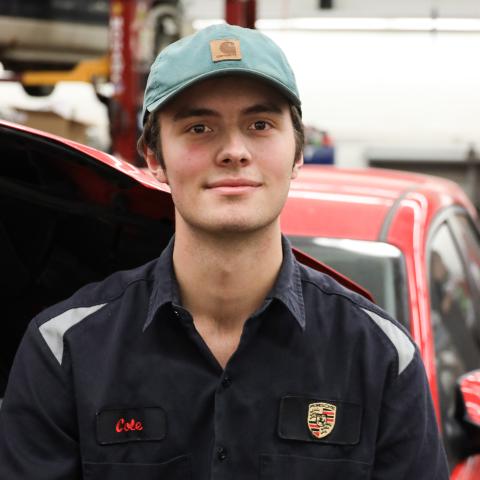 10-13-2023
On October 13th, 2023, North Dakota State College of Science (NDSCS) welcomed back one of its proud alumni, Cole Recker, who graduated in 2023 with a degree in Automotive Technology. Cole's return to the campus brought inspiration as he shared his remarkable journey since leaving NDSCS.
Originally from Maple Grove, Minnesota, Cole chose NDSCS for various compelling reasons. He highlighted the college's on-campus housing, affordable tuition, Snap-On tool discount, and the stellar reputation of its Automotive Technology program. He was excited about the opportunity to experience a 4-year college feel in a 2-year educational package. Cole reports that he loved his time at NDSCS, being just far enough away from home, and making great friendships with his classmates and others on campus. Despite there being other trade colleges closer to home than Wahpeton, Cole was drawn to NDSCS, and his decision has since proven to be a wise one.
During his visit, Cole had the opportunity to reconnect with his former instructors and engaged with current Auto Tech students, offering valuable insights into the industry. Cole's journey after graduation has been nothing short of impressive.
Cole's passion for high-end automobiles led him to intern at Ferrari, one of the most iconic names in the automotive world. His dedication and expertise eventually landed him a full-time position at Porsche Minneapolis. Notably, Cole has worked on some of the most luxurious and expensive cars, including a $5 million Ferrari La Ferrari.
In addition to his work, Cole has had exciting international experiences in the automotive industry. He traveled to Europe, where he had the opportunity to visit several prestigious European car manufacturers, further enhancing his knowledge and skills in the field.
Not limited to traditional automotive work, Cole is also actively involved in racing. He's a part of the crew for racing events like SCCA Spec Miata and DirtFish Rally, where he plays a role in servicing the vehicles. Cole finds excitement in the world of off-road racing, making it clear that his passion for automobiles goes beyond the showroom floor.
As Cole Recker continues to excel in his automotive career, his return to NDSCS serves as a reminder of the incredible opportunities that can unfold for students who pursue their passions and take advantage of the quality education provided by the College. His journey from student to successful industry professional is a testament to the value of hard work, dedication, and the excellent programs offered at NDSCS.