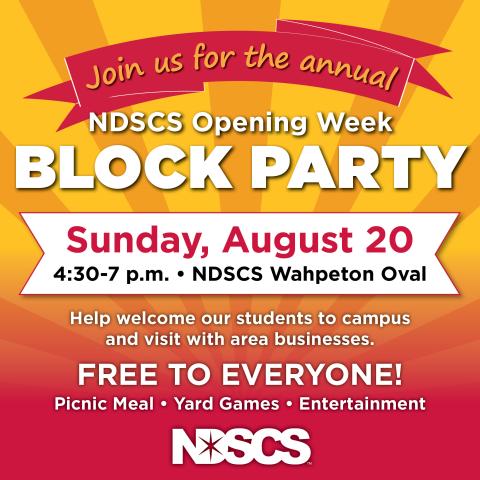 08-11-2023
Opening weekend events at North Dakota State College of Science in Wahpeton will kick off on Saturday, August 19 when residence halls open for student move-in at 10 a.m. NDSCS has some exciting updates and events to share with students and the community:
Welcome Week, an annual series of events designed to help students connect to the College community and establish positive and healthy habits, will take place from August 19-25 and will include outdoor evening activities for new and returning students.
Some of these events will include:
Saturday, August 19

12 – 8 p.m. Move-in Music on The Oval
9 - 11 p.m. Outdoor Movie on The Oval

Sunday, August 20

4:30 – 7 p.m. Community Block Party (The Wahpeton-Breckenridge and surrounding community is invited! Register your business/organization to be involved and learn more at NDSCS.edu/Block-Party)

Due to road construction around the NDSCS campus, guests will be able to find parking for the Block Party in Lot 2, North of the Old Main building. All parking for the event will be free.

9 p.m. – 12 a.m. Street Dance in Lot 2 north of Old Main with music provided by a D.J.

Monday, August 21

7:30 - 10 p.m. Party on The Oval with music provided by a D.J.

Wednesday, August 23

8 – 10 p.m. Karaoke and Open Mic Night on The Oval

Thursday, August 24

9 p.m. – 12 a.m. Street Dance in Lot 2 north of Old Main with music provided by a D.J.

Friday, August 25

7 – 9 p.m. Mini Golf on The Oval
(Please forgive us for any loud noise that comes from the NDSCS Wahpeton campus that week — we are welcoming students and helping them make memories!)
In addition to student move-in and events, NDSCS Dining Services is excited to share their recent updates with students — The Wildcat Express has added a taco/burrito restaurant and a burger restaurant, and the Wildcat Dining Room has developed a whole new layout, adding a pasta bar (that includes their delicious homemade Mac 'N Cheese!), and various other food stations. The Den has also experienced updates over the summer to make it even better for our students to hang out and grab a snack at the new c-store.
North Dakota State College of Science fall semester classes will begin Monday, August 21 at 4 p.m. for all students in Wahpeton, Fargo and Online. Students who are not yet enrolled for fall semester can still do so by contacting the Office of Admission at 701-671-2521 or online at NDSCS.edu/Apply.