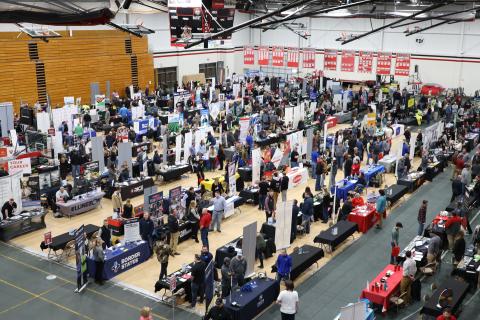 03-23-2023
A crowd of students, potential employers and educators and supporters came Tuesday, March 21 to the Clair T. Blikre Activities Center.
North Dakota State College of Science held its 2023 Career Fair in Wahpeton. The event, previously delayed due to winter weather, lasted from 10 a.m.-1 p.m. The 2022 fair was attended by nearly 500 students and this year's event appeared to meet or exceed expectations.
"It is very exciting," NDSCS Director of Career Services Lisa Wixo said. "I'm really glad that our employers were able to come this year. The postponement from our original date did not have much of an impact. They're here, they need our students and students should be able to find employment during the day."
More than 200 employers and universities participated in the 2023 Career Fair. They included locally-based employers like the Richland County Sheriff's Office, Richland County Communications/911, ComDel Innovation and the Red River Human Services Foundation, as well as regional, national and internationally-known employers.
"There are opportunities for absolutely every single student that we have," Wixo said. "They definitely find employment opportunities. We also have first year students that are looking for cooperative education experiences. They also find those today, along with graduates who find employment today."
More than 20 employers were expected to conduct interviews Tuesday afternoon at NDSCS. Prior to that, students strolled the Blikre, engaging with prospective employers and educators.
"This is awesome," said Connor Lay, a second year building construction technology student.
Lay was joined by friends and peers Glen Erickson and Tanner Obrigewitch. The trio met with Sara Galt, Industrial Builders, Inc., who accepted their cover letters and resumes.
"It's pretty nice, with all the employers coming out to give us a chance," Obrigewitch said.
"The career fair's awesome. We're meeting with all the employers in one spot, so it's easy for us to go around, talk to people and make connections," Erickson said.
Earlier this month, a Career Expo hosted by Cargill took place at the Wahpeton Community Center. Twenty-five Southern Red River Valley employers were on hand to meet with more than 180 high schoolers from Wahpeton and Fairmount, North Dakota, and Breckenridge and Campbell, Minnesota.
Richland 44 High School, Colfax, North Dakota, was scheduled to hold a career fair from 9-11 a.m. Wednesday, March 22. Additionally, the Richland County Law Enforcement Center, Wahpeton, is scheduled to hold a career fair from 10 a.m.-2 p.m. Tuesday, March 28.
"I think it's interesting because, three years ago, I was in these students' shoes," Chris Ennen, Gast Construction, said about meeting the NDSCS youth. "I think it's kinda nice to be on this side of it (as an employer), understanding where they're coming from."
Tyler Hook and Benjamin Austin, a pair of second year welding students, met with Cory Swingen and Chase Fennell, Swingen Construction.
"I've been here one time before. It's a good opportunity to find a new job," Hook said.
"I enjoy it. I look forward to it," Austin said.
Lt. Tyler Kirsch, a U.S. Navy recruiter, was around to meet with students and talk about the Navy's work in fields such as nuclear power.
"I've been serving for nine-and-a-half years," Kirsch said. "I was right out of high school. I enlisted originally and got picked up for a commission program. I got to go back to school while I was still on active duty. I did my commission and then got to work on submarines."
Michele Flanigan, wife of NDSCS President Dr. Rod Flanigan, was also active during the 2023 Career Fair. She enjoyed meeting with college guests. NDSCS will have more guests the night of Friday, April 14, when the DREAMS Auction returns to the Blikre Activities Center.
"It's just amazing to me, the support that we have for the school," Michele Flanigan said. "The companies that we have here are great. It's just been amazing to get to know these people. We appreciate all that they do for us. This is our first experience and it's just overwhelming."
Article written by Frank Stanko for Wahpeton Daily News on March 22, 2023.