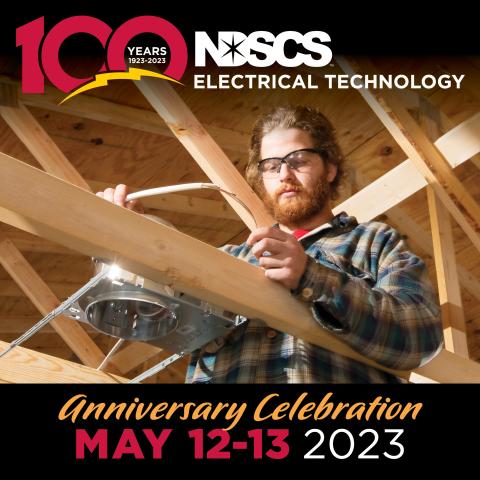 03-10-2023
North Dakota State College of Science will celebrate its 100th Anniversary of Electrical Technology education in 2023! To recognize this milestone, a celebration will be held May 12-13, 2023, on the NDSCS campus in Wahpeton, N.D. All electrical alumni and those from programs housed in Barnard Hall are invited to participate in this event. A special section will be reserved for those returning for the reunion during the graduation ceremony at 3:00 p.m. on May 12. In addition, the weekend will include a Friday evening social, a Saturday night banquet with entertainment, Saturday campus tours, and family-friendly events.
For more information, to register, or volunteer for the weekend, please contact the NDSCS Alumni Foundation at 701-671-2247, email NDSCS.alumni@ndscs.edu, or visit the website at www.NDSCSalumni.com/Electrical-Reunion. Reserve your hotel room by April 12, 2023, and be sure to mention NDSCS Electrical Reunion. Hotel accommodations are also listed on the website.
We would like to thank the following business sponsors: North American Coal, Coyote Creek Mine, Falkirk Mine and Freedom Mine, Expanse Electrical Co., JDP Electric Inc., Otter Tail Power Company, Encore Electric, Xcel Energy, A&K Development Company, Cass County Electric Cooperative, Electric Utility Workshop, Parsons Electric, Scott's Electric, Basin Electric Power Cooperative, Bergstrom Electric, H&H Electric, Lake Region Electric Co-op and Operation Round-Up, Lesco, Inc., Montana Dakota Utilities, North Central Electrical League, Inc., Summerville Electric, Border States Electric, Central Power Electric Cooperatives Inc., Dakota Valley Rural Electric Co-op, Eagle Lake Electric, Gary & Son Electric Service, Inc., International Association of Electrical Inspectors, North Central Electrical Engineering Society, North Dakota Association of Rural Electric Co-op (NDAREC), and Northern Plains Electric Cooperative.
Return to NDSCS, join your fellow alumni, and celebrate this great program, facility, and milestone!
Fun facts: Other things that are 100 years old – the automatic watch, the bulldozer, instant cameras, cotton swabs, and the 3-light traffic signals.
Article written by NDSCS and submitted to external news outlets.