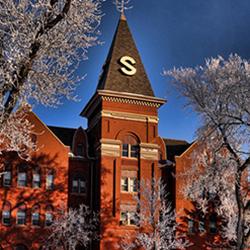 02-22-2023
Spring semester enrollment at the North Dakota State College of Science is 2,991 according to the official census, which is taken on the 20th instructional day of classes each semester. This is the highest spring semester enrollment on record since 2016 and a 13.4 percent increase over spring 2022.
"We are pleased with the significant enrollment growth this semester," said NDSCS President Rod Flanigan. "This growth comes at a time when many, many community colleges in this region, and throughout the United States are facing declining enrollments. Our growth is the result of the tremendous work our team is doing, including all academic programs, our Enrollment Management office, and our Dual Credit office. It is a team effort!"
There are 1,295 full-time students and 1,692 part-time students, with nearly 48 percent of students residing on-campus at NDSCS in Wahpeton. Additionally, 74.2 percent of NDSCS students are from 48 counties in North Dakota, while 21.1 percent of students are from Minnesota, 1.4 percent are from South Dakota and 0.7 percent are from Montana.
Article written by NDSCS and submitted to external news outlets.