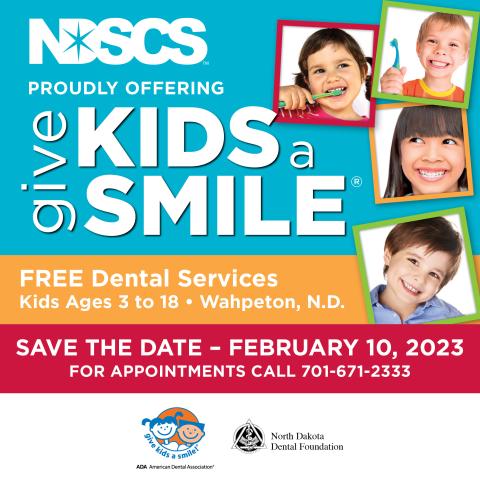 01-31-2023
The North Dakota State College of Science Allied Dental Education Clinic will participate in the annual American Dental Association's Give Kids a Smile® Day on Friday, February 10 from 9 a.m. to 3 p.m. at the Mayme Green Allied Health Center on the NDSCS campus at 800 6th Street North, Wahpeton, N.D.
During this event, NDSCS Allied Dental students will perform cleanings, radiographs, sealants, fluoride applications, and oral health education. Services provided may also include basic restorative procedures, simple extractions, and patient exams. The clinic will provide dental care to individuals ranging in age from 3 to 18.
All patients must have appointments in advance. A parent or legal guardian must accompany patients younger than 18 years. To schedule an appointment, please contact the NDSCS Allied Dental Education Clinic at 1-800-342-4325 ext. 3-2333 or 701-671-2333.
The American Dental Association began the Give Kids a Smile program in 2003 as a way for dentists to join with others in the community to provide dental services to children who may have difficulty accessing dental care, or families with limited financial resources. Dentists and other team members volunteer their time and services to provide screenings, treatments, and education to children throughout the United States.
Article written by NDSCS and submitted to external news outlets.