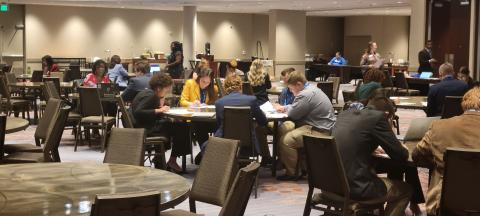 12-05-2022
Nearly 200 Collegiate DECA members, including 5 NDSCS students and NDSCS Business Management Professor, Greg Anderson, attended the 2022 ENGAGE Conference in Atlanta, GA on November 3-5, 2022. The NDSCS student attendees were:
Jayden Kaehler
Reid Goodman
Cassie Hanson
Bridger Ell
Hayden Schuler
The weekend included three days of non-stop networking, powerful speakers, career exploration, competition and captivating EduTours.
One highlight of the conference included behind-the-scenes EduTours to eleven businesses in the Atlanta area. These businesses included AmericasMart, Chick-fil-A, Dagger, Epicurean, Georgia-Pacific, Illuminarium, Inspire, Marriott, Mercedes-Benz Stadium, Salesforce and Westin.
Another major component of the conference was the Case Study Challenge. This year's Case Study was a Marketing Management event that focused on buying and merchandising for a sporting goods store. Photo shown is of students Hayden, Reid, and Bridger preparing for their case study presentation. 
Original article written and published by decadirect.org.