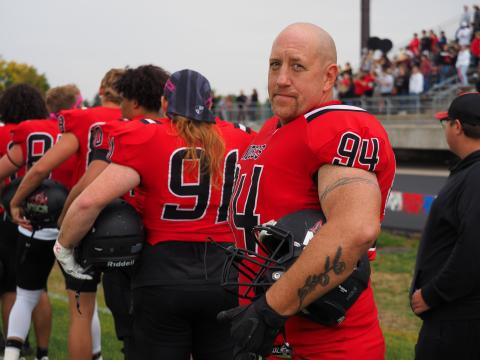 10-28-2022
Daily News has received reports from multiple sources that ESPN has arrived in Wahpeton to continue covering the Ray Ruschel story.
Ruschel, a 49-year-old freshman on the North Dakota State College of Science football team, went viral after Daily News broke his story Sept. 8 in a piece titled "NDSCS nose guard Ray Ruschel tackles football at 49 years old," leading to the defensive lineman appearing on Fox & Friends and ESPN College Gameday.
News of his unlikely return to the gridiron was shared by the Pro Football Hall of Fame, Capital One Orange Bowl, Associated Press and Washington Post. Valley News Live posted a short interview with Ruschel on Twitter that gained over 325,000 views.
In addition to playing football, Ruschel works the graveyard shift at Minn-Dak Farmers Cooperative and studies business management during the day. He is a U.S. Army veteran and active member of the Army National Guard.
The 1992 Trinity High School (PA.) graduate is a finalist for the Armed Forces Merit Award to be presented between 6-6:30 p.m. Nov. 11, Veterans Day, during an ESPN telecast.
Ruschel and the No. 3-ranked Wildcats (7-1) host Central Lakes (4-3) at 2:30 p.m. Sunday in the semifinal round of the Minnesota College Athletic Conference playoffs. NDSCS won the only meeting between the teams Oct. 1 in Wahpeton, 52-14.
Article written by Robert Wanek Jr for Wahpeton Daily News on October 28, 2022.