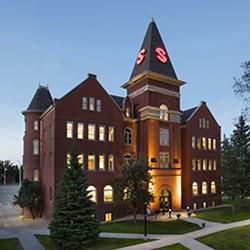 07-21-2022
North Dakota State College of Science (NDSCS) students recently earned top honors at the national SkillsUSA Championships held during the National Leadership and Skills Conference (NLSC) in Atlanta, Georgia in June. Three NDSCS students received medals for their achievements.
Brady Kroll, an NDSCS plumbing student from Barnesville, Minn., won a silver medal in the Plumbing category. Kroll was tested on his ability to 'rough-in' hot and cold-water lines with copper tubing and 'rough-in' sanitary drainage, waste and vent lines with cast iron and PVC plastic for a water closet, a lavatory, a washer box and a floor drain.
Zachary Lahlam of Marion, ND also won a silver medal, this time in the Power Equipment category. In Power Equipment, Lahlam's skills were tested in all areas of technology, from understanding related theories, interpreting both electrical and hydraulic schematics to customer service skills.
Additionally, Cale Mouser of Tenstrike, Minn. earned a bronze award in the Diesel Technology category and Shayne Hoffman of New Hradec, N.D., an Architectural Drafting & Estimating Technology student, won fourth place in the Architectural Drafting category.
"Our SkillsUSA participants exemplify all of our talented students at NDSCS and the outstanding faculty that foster their learning and skills. We are incredibly proud of these students' accomplishments," said Dr. Lisa Karch, Vice President for Instructional Affairs.
The SkillsUSA Championships event is one of the largest hands-on workforce events in the world and are known for career competition events showcasing the best career and technical education students in the nation. This year's competition was the first time since 2019 all competitions were held in-person. More than 5,200 contestants competed in 108 separate events, with nearly 1,100 judges and contest organizers make the national event possible.