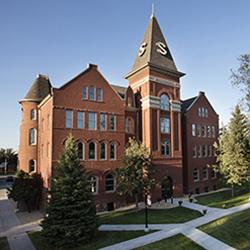 02-13-2022
Four students from the North Dakota State College of Science have been nominated for the 2022 All-North Dakota Academic Team, which recognizes the academic achievements of community college students.
The students, listed with their program of study and hometown, are:
Transfer Pathway Scholars:

Rebekah Blazek, Liberal Arts — Business Management, Wyndmere, N.D.
Megan Johnson, Liberal Arts — Pre-Social Work, Wahpeton, N.D.

Workforce Pathway Scholar:

Jessica Novotny, Dental Assisting, Buffalo Lake, Minn.
Kwabena Oppong, Electrical Technology, West Fargo, N.D. (originally from Ghana)
The Al-North Dakota Academic Team is sponsored by Phi Theta Kappa and the Coca-Cola Foundation and is comprised of scholars from each of the community college in the state. Workforce Pathway Scholars plan to begin their careers immediately upon graduation, and Transfer Pathway Scholars plan to continue their education at a four-year institution after completing their studies at a community college. 
NDSCS Phi Theta Kappa Advisor, Jeff Hart said, "These students have exemplified outstanding academic success and a commitment to serving the NDSCS College community. We are proud to nominate them for this award."
The students will be recognized at an awards luncheon held at Williston State College, Williston, N.D. on Thursday, April 7, 2022.