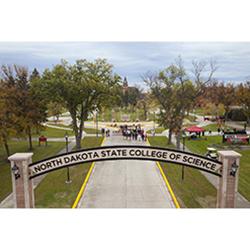 02-05-2022
North Dakota State College of Science's Robotics, Automation, & Mechatronics Technology (RAMT) department will be hosting a VEX robotics competition at the Blikre Activities Center (902 14th Avenue North) on Saturday, February 12 at 9:30 a.m. running until the tournament ends at approximately 3 p.m. 
"We are excited to welcome this tournament for the first time to NDSCS" said Lonnie Wurst, NSDCS Assistant Professor and Program Coordinator for RAMT, "The different skills that the students develop during their robot builds, such as teamwork, project management, engineering design, and public speaking, directly relate to almost any career path that they may choose in their adult years."
During this competition, middle and high-school students from Fargo, Grand Forks, Valley City and Cavalier will be competing in the 2021-22 VEX Robotics Competition game, Tipping Point, presented by Robotics Education & Competition (REC) Foundation. These teams will provide a non-stop, action-packed day of competition — battling against each other with robots they designed, built and programming from VEX V5.
After earning a two-year degree from the RAMT program, graduates are able to go right into the workforce earning an average monthly salary of $3,643 or continue their academic journey at a four-year college or university. To learn more about the Robotics, Automation & Mechatronics Technology program at NDSCS visit NDSCS.edu/RAMT.