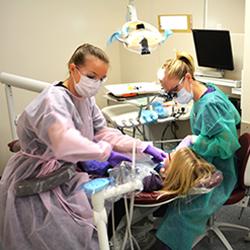 01-13-2022
"Give Kids a Smile" event returns to NDSCS Ages 3-18 welcome to make an appointment for free dental services on February 4, 2022 WAHPETON, N.D. — January 14, 2022 — The North Dakota State College of Science Allied Dental Education Clinic will participate in the annual American Dental Association's Give Kids a Smile® Day on Friday, February 4 from 9 a.m. to 3 p.m. at the Mayme Green Allied Health Center on the NDSCS campus at 800 6th Street North, Wahpeton, N.D.
All patients must have appointments in advance. A parent or legal guardian must accompany patients younger than 18 years. To schedule an appointment, please contact the NDSCS Allied Dental Education Clinic at 1-800-342-4325 ext. 3-2333 or 701-671-2333.
This nationwide event designates a day of free dental care for children who may have difficulty accessing dental care or families with limited financial resources. As part of this day, NDSCS Allied Dental students will perform cleanings, radiographs, sealants, fluoride applications and oral health education. Services may include basic restorative procedures, simple extractions and patient exams. The clinic will provide dental care to individuals ranging in age from three to 18.