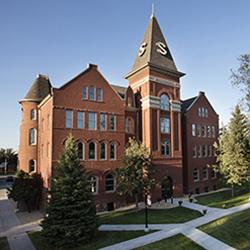 06-03-2020
NDSCS has entered the next phase of its COVID-19 re-entry plan, a significant step that will prepare for the in-person return of some students, faculty and guests after June 25. This is the second phase of the College's four-phase re-entry plan, which creates a path toward a full return to in-person classes and staffing for the Fall 2020 semester.
"Our goal is to focus on minimizing risk and the spread of COVID-19 while continuing to fulfill our mission to educate and train the workforce," said NDSCS President John Richman. "We are moving forward by following guidelines outlined by health officials and state leaders, and we look forward to welcoming all students and employees back this fall."
The College's COVID-19 re-entry plan outlines steps and actions that will be taken during each phase, along with supplies and equipment that will be procured prior to entering the next phase. NDSCS plans to hold limited in-person classes beginning with second summer session classes, which begin on June 29. Additional students and faculty will return for an in-person Technical Skills Session that is scheduled to begin August 3 to provide an opportunity for hands-on instruction that was missed during the Spring 2020 semester due to COVID-19. The College's rescheduled Commencement ceremony will be held on August 21, and Fall 2020 classes will begin at 4 p.m. on August 24.