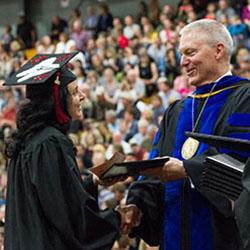 04-23-2020
North Dakota State College of Science will hold its Commencement ceremony on Friday, August 21 at 4 p.m. at the Clair T. Blikre Activities Center on the NDSCS campus in Wahpeton. The event was originally scheduled to be held on May 15, but was postponed in response to COVID-19.
"We are looking forward to this exciting event when we can celebrate this important milestone with our graduates and their families," said NDSCS President John Richman.
The new Commencement date is scheduled to take place at the end of the College's Technical Skills Session, which NDSCS added to provide an opportunity for students in selected academic departments to receive technical instruction that was missed during the Spring 2020 semester due to COVID-19. Commencement will also mark a transition to the Fall 2020 semester, with fall classes scheduled to begin on August 24.
"This is an exciting time for NDSCS as we look to the future and make plans for the upcoming academic year," said Richman. "We are making the necessary adjustments to allow for the continued health and safety of our campus community as we prepare for in-person classes and events later this summer."
NDSCS will follow guidelines outlined for resuming gatherings and public events as the College plans for Commencement and in-person classes.