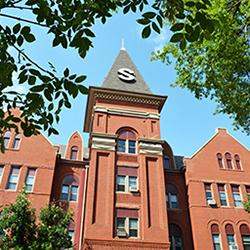 03-12-2020
The North Dakota State College of Science has announced that it will facilitate academic classes through distance delivery methods from March 23 through April 3. These are the two weeks following the College's scheduled spring break of March 16-20. All classes scheduled to be held face-to-face at the Wahpeton campus and the NDSCS-Fargo location will be held through distance teaching and learning during this time.
NDSCS will remain open and staffed throughout spring break and during the weeks of distance teaching and learning. The College will continue daily operations, and staff will maintain their regular work schedules while being encouraged to practice social distancing.
To the greatest extent possible, faculty will utilize technology to enable student learning through distance delivery methods during this time. This will vary based on course content and learning outcomes, and could include video recording of lectures, online submission of homework and other assessments, and online chat options and other means of instructor-student and student-student engagement. At this time, students will still participate in any scheduled clinical and field experience, as well as internships.
Students who live on campus and plan to leave for spring break are being asked to prepare not to return until April 5. Residence halls will be available when necessary to support students who are unable to leave campus or need to return prior to April 5, and campus dining options will be available to those students who remain on campus. Students will be supported if they don't have access to online resources when they are away from campus.
"The health of our community is our most important priority," said NDSCS President John Richman. "We have been consulting with Chancellor Hagerott and North Dakota medical experts, and we have been learning from colleges and universities that have been impacted by COVID-19. While there are relatively few confirmed cases of COVID-19 in the region, we feel this is the best decision for the health of our students and employees, and the greater community."
NDSCS anticipates that it will resume face-to-face classes on Monday, April 6.