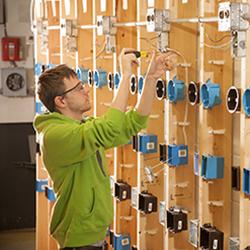 10-13-2016
The North Dakota State College of Science Electrical Technology Department will commemorate Careers in Energy Week October 17-21, 2016.
NDSCS will be hosting industry speakers to inform its students about various aspects of the energy industry, including electrical contracting, industry codes and wind generation.
High school students considering an energy-related career can learn about the NDSCS Electrical Technology program, as well as other programs offered at NDSCS, during Discovery Days on October 20 or 21. Further information about Discovery Days can be found online at ndscs.edu/specialevent.
The public is invited to view displays celebrating Careers in Energy Week at the NDSCS Mildred Johnson Library throughout the week of October 17-21.
Careers in Energy Week is part of a nationwide effort to promote awareness of energy careers and future workforce needs. NDSCS is a member of the Dakota Energy Workforce Consortium, a partnership of colleges and electric and gas/electric utilities in North Dakota and South Dakota, which is leading state and local efforts. To learn more about National Careers in Energy Week, visit getintoenergy.com. Learn more about the NDSCS Electrical Technology program at ndscs.edu/electrical.