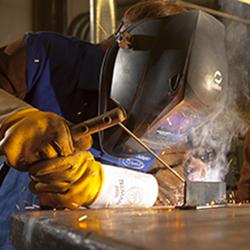 05-31-2017
North Dakota State College of Science has been awarded a $742,567 grant from the National Science Foundation to support the North Dakota Welds (NDWelds) Program: Advancing Welding Technician Skills for Students and Training for Educators.
NDWelds has a goal of enhancing welding technician skills for secondary school students, two-year college students, secondary school teachers and two-year college faculty members. Through this project, NDSCS will increase the number of trained and certified welders possessing essential and advanced skills to meet the workforce needs of the region.
The NDWelds project will increase awareness among students from under-represented groups of the opportunity for careers in welding. NDWelds significantly impacts the regional economic environment by filling a critical employment training need.
The grant award started on May 15, 2017, and will end on April 30, 2020.