NDSCS: A Place for Everyone
All students, faculty and staff deserve to learn in an environment that's supportive and friendly, regardless of their sexual orientation or gender identity/expression.
Safe Zone is a program designed to:
Educate people about sexual orientation and gender identity/expression issues.
Create a visible network of Allies to provide support to the NDSCS lesbian, gay, bisexual, transgender, queer and questioning (LGBTQ) community.
Provide accurate information about sexual orientation and gender identity/expression issues and resources within the community.
Look for the Safe Zone Symbol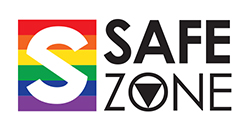 Anyone displaying the Safe Zone symbol has committed to being an understanding, supportive and trustworthy Ally for LGBTQ members of our College community. This person can also be counted upon to provide accurate information about sexual orientation and gender identity issues.
off
NDSCS Allies
The Safe Zone program is growing at NDSCS – check often to see our updated list of allies. Also, the Student Advocate is available in Old Main and coordinates the Safe Zone program.
Safe Zone Allies are not personal counselors, but they offer a safe place for LGBTQ individuals to be themselves. An ally listens. An ally respects confidentiality. An ally offers support, personally and through outside resources and referrals. An ally understands!
NDSCS Ally List
A
Dana Anderson
Haverty Hall 216, English/Humanities
dana.anderson@ndscs.edu
Nicole Ashe
NDSCS-Fargo 183F, Enrollment Services
nicole.ashe@ndscs.edu
B
Brynlie Baggenstoss
Wahpeton, Student
brynlie.baggenstoss@ndscs.edu
Kathryn Beherns
Haverty 223, English/Humanities
kathryn.beherns@ndscs.edu
Sandra Benedict
Hektner Student Center, Dining Services
sandra.benedict@ndscs.edu
Aaron Bertens
Wahpeton, Student
bertensaaron@gmail.com
Isaac Blazek
Wahpeton, Student
Isaac.blazek@ndscs.edu
Shelley Blome
Haverty Hall 101, Financial Aid
shelley.blome@ndscs.edu
Susan Bronson
Haverty Hall 101, Financial Aid
susan.bronson@ndscs.edu
C
Nicole Colon
Wahpeton, Student
nicole.k.colon@ndscs.edu
D
Karen Dahlgren
Old Main 230, Student Success
karen.dahlgren@ndscs.edu
Nicole Davis
Haverty Hall 101, Financial Aid
nicole.i.davis@ndscs.edu
Hannah Devine
Wahpeton, Student
hannah.devine@ndscs.edu
Karla Dickerson
Haverty Hall 101, Registrar's Office
karla.dickerson@ndscs.edu
John "Matt" Diischer
Riley Hall 137, Residential Life
matt.diischer@ndus.edu
Sheila Dolan
Haverty Hall 101, Financial Aid
sheila.dolan@ndscs.edu
Taylor Donohue
Old Main 130, Student Success
taylor.n.donohue@ndscs.edu
Kassie Dumont
Robertson Hall 131, Residential Life
kassie.dumont@ndscs.edu
E
Amanda Edwards
Wahpeton, Student
amanda.k.edwards@ndscs.edu
F
Tammy Fogle
NDSCS-Fargo 195/Haverty Hall 118, College Relations and Marketing
tammy.fogle@ndscs.edu
Hannah Franks
Haverty Hall 101, Admissions
hannah.franks@ndscs.edu
Gary Furness
Patterson Maintenance, Facilities Management
gary.furness@ndscs.edu
G
Jason Gallaher
Wahpeton, Student
​jason.gallaher@ndscs.edu
Sandi Gilbertson
Haverty 126, Human Resources
Sandi.Gilbertson@ndscs.edu
H
Alissa Herbranson
Riley Hall 130, Residential Life
alissa.herbranson@ndscs.edu
Melanie Herding
Riley Hall 113, Student Health and Counseling
melanie.herding@ndscs.edu
Liza Hinrichs
Riley Hall 130, Residential Life
Liza.Hinrichs@ndscs.edu
Kathryn Holzer
NDSCS-Fargo, Student
kathryn.holzer@ndus.edu
Kijia Homes
Old Main 340, Student Success
kijia.homes@ndscs.edu
Nolund Hughes
Wahpeton, Student
nolund.hughes@ndscs.edu
Alyssa Hunter
Wahpeton, Student
alyssa.hunter@ndscs.edu
J
Erin Johnson
Old Main 130E, Student Success
erin.j.johnson@ndscs.edu
Melissa Johnson
Riley Hall 130, Student and Residential Life
melissa.j.johnson.3@ndscs.edu
Jim Johnson
Twin Cities, Enrollment Services
James.Johnson.2@ndscs.edu
L
Riley Leedahl
Wahpeton, Student
riley.leedahl@ndscs.edu
Crystal Lovik
Haverty Hall 101, Financial Aid
crystal.lovik@ndscs.edu
M
Sara Mack
NDSCS-Fargo 183C, Student Success
Sara.Mack@ndscs.edu
Eli Macki
Wahpeton, Student
emily.maki@ndscs.edu
Ronda Marman
NDSCS-Fargo 161, English and Humanities
ronda.marman@ndscs.edu
Bethany Mauch
Riley Hall 107, Student Health and Counseling
bethany.mauch@ndscs.edu
N
Carin Nielson
Old Main 115, Student Success Center
carin.nielson@ndscs.edu
O
Malee Olson
Wahpeton, Student
malee.olson@ndscs.edu
P
Jane Passa
Blikre Activities Center 190, Athletics
jane.passa@ndscs.edu
Andrew Pedersen
Patterson Maintenance 104, Facilities Management
andrew.pedersen.1@ndscs.edu
Daniella Perez
Wahpeton, Student
daniella.perez@ndscs.edu
Ashley Pfeiler
Wahpeton, Student
ashley.pfeiler@ndscs.edu
Vince Plummer
Riley Hall 113, Student Counseling
vince.plummer@ndscs.edu
Bryan Poyzer
Cultural Center 132, Performing Arts
bryan.poyzer@ndscs.edu
Sybil Priebe
Haverty Hall 223, English/Humanities
sybil.priebe@ndscs.edu
R
Heather Retzer
Old Main 340C, Student Success
heather.retzer@ndscs.edu
S
Char Schuler
Old Main 436, Social and Behavioral Science
Charlotte.Schuler@ndscs.edu
Fern Sessing
Riley Hall 130, Residential Life
fern.sessing@ndscs.edu
Alissa Sherven
Hektner Student Center 146, Student Life
alissa.sherven@ndscs.edu
Taylor Sonaram
Wahpeton, Student
taylor.sonaram@ndscs.edu
Jaclyn Steenblock
Old Main 130, Student Success
jaclyn.steenblock@ndscs.edu
T
Mindy Tayer
Old Main 110B, Student Success
mindy.manocktayer@ndscs.edu
Cloy Tobola
Hektner Student Center 162A, Information Technology Services
cloy.tobola@ndscs.edu
U
James Ulrigg
Wahpeton, Student
james.ulrigg@ndscs.edu
V
Jane Vangsness Frisch
Old Main 340D, Student Success
jane.vangness@ndscs.edu
W
Davis Waldron
Wahpeton, Student
davis.waldron@ndscs.edu
Adrianna Winter
Wahpeton, Student
adrianna.winter@ndscs.edu
Lisa Wixo
Old Main 340B, Student Success
​Lisa.Wixo@ndscs.edu
Safe Zone Training
Level 1: Becoming an Ally
The goal of this introductory training session is to provide basic information about sexual orientation, especially as it relates to NDSCS students, faculty and staff. Topics addressed include an overview of relevant terminology, the Coming Out process, and how to be an ally for someone who identifies as lesbian, gay, bisexual, transgender or queer. Participants at this training session will have an opportunity to make a personal commitment to becoming an NDSCS Safe Zone Ally. However, becoming an ally is not a requirement.
Upcoming Level 1 Training
Online/Virtual
October 27 from 4-5 p.m. (link will be emailed)
November 30 from 4:30-5:30 p.m. (link will be emailed)
Level 2: Gender Identity
This training session is designed for current NDSCS allies and includes a terminology refresher, along with new material focused on the transgender community. While continuing education is important, you do not have to participate in Level 2 to be an ally or continue allyship.
Upcoming Level 2 Training
Wahpeton: All trainings held in the Hektner Student Center
Check back for future training dates.
If requested, attendance can be tracked for extra credit purposes.