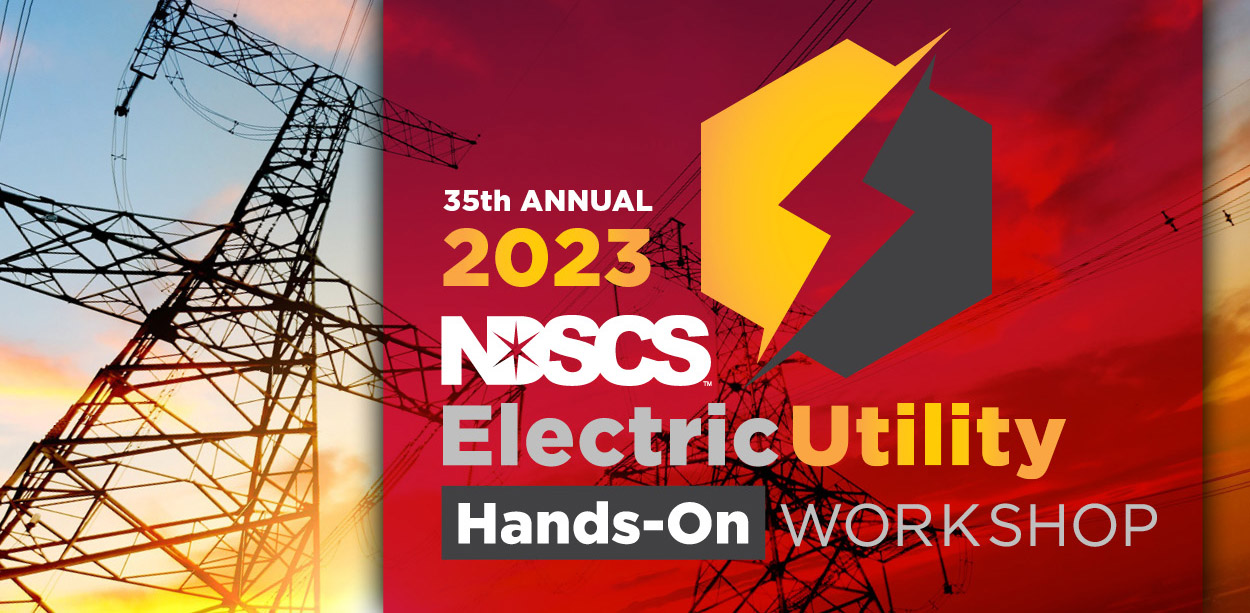 full
Did you attend the 2022 Utility Workshop? Any track offering this year would be a great follow up course to what you learned last year!
Hello Workshop Participants,
My name is Ivan Maas, and I am the Building Systems Department Chair at NDSCS. Tom Scherer, who had been the Chair of our Electric Utility Workshop committee for many years, retired last Spring and I stepped into the position.
We are extremely excited about this year's Utility Conference in March and can't wait to have you join us for this event. We have two new courses that we are offering this year – Distribution Protection and Relaying Basics & Voltage Regulators. Any course this year complements the sessions that were offered last year making the Electric Utility Workshop a progression-based learning opportunity for you and your colleagues annually. Pick the option that best provides the next level of learning for you!
The planning and organization of this workshop is a collaboration of representatives from electric cooperatives, the electric supply industry, NDSCS and NDSU Extension Service. Members of the committee volunteer their time and expertise to plan and organize this event for you. We welcome any suggestions from you for future training topics.
Hope you learn a lot and enjoy your time at the workshop.
Ivan Maas
Chair, Electric Utility Workshop Committee
off
Session Track 1
Distribution Protection and Relaying Basics 
John Aultman, P.E., and Josh LaBlanc, P.E., Schweitzer Engineering Laboratories
This course provides an overview of the principles for protecting distribution feeders and buses. Protection and control systems are a critical part of the transmission and distribution systems that feed power to cities and industries.
Topics include:
Basic Circuit Theory including power system faults and relay fundamentals
Recloser control training including distribution feeder protection and troubleshooting topics
Regulator control training including an overview of regulators, panel settings and troubleshooting regulator control circuits
Causes of Harmonics using the SynchroWAVe Event to identify harmonics
To enhance user experience in this course, participants should bring a laptop with AcSELerator Quickset installed. 
Session Track 2
Hands-On Metering: Intermediate to Advanced
Larry Chapman, Chapman Metering
The purpose of this class "to assist field personnel in finding metering errors that are adversely affecting billing accuracy and/or personal safety of the technicians involved in maintaining this equipment." This class has several work stations to test different configurations of meter installations.
Hands On Work Stations:
Single Phase Metering and 3-phase Metering stations. Participants will properly wire the stations.
Station trouble shooting. Stations will have errors that need repair and testing.
Topics Include:
Metering of 3-phase Services using Self-Contained and Transformer Rated Meters
Proper Selection of Voltage and Current Transformers
Transformer Burden and Sizing of Metering Conductors

Single Phase Transformer Rated Meters

Proper Grounding

Meter Safety

AMR Metering-Changes
Participants are asked to bring hand tools, safety glasses, secondary gloves and an ammeter. These materials are needed for hands on work stations.
Session Track 3
Voltage Regulators
John Thierfelder, EATON
A well-maintained voltage regulator helps ensure more reliable power and increased safety. Proper maintenance also saves time and money by avoiding system downtime and extending equipment life. This course is an overview covering CL-7 control, and voltage regulator basics to improve equipment performance, increase voltage regulator reliability and ensure operator safety.
Topics include:
Voltage regulator theory and application
Control hands-on exercises
Control panel retrofitting
Voltage regulator receiving, handling and maintenance
Tap-changer maintenance and inspection
CL-7 control settings and features and voltage regulator schematics and troubleshooting
Safe regulator bypassing and voltage regulator safety topics
Training materials and CL-7 voltage regulator controls will be provided for hands-on training.
Instructor Bios
John Aultman, P.E. Schweitzer Engineering Laboratories
John Aultman received his Bachelor of Science in Electrical Engineering degree from the University of North Dakota in 2009. He started his career as a Field Service Engineer, then Application Engineer for Rockwell Automation/Allen-Bradley in their Industrial Plant Services division. After helping start up a new business, John worked as a Sr. Engineer/ Co-Owner at an electrical engineering and consulting firm supporting heavy industrial and electrical utility customers across the Midwest.
He has been working at SEL as an Application Engineer since September 2020. His primary roles include providing technical support on relay protection related topics in all areas of power system protection as well as teaching / presenting on these topics.
Josh LaBlanc, P.E. Schweitzer Engineering Laboratories
Josh LaBlanc is an Application Engineer with Schweitzer Engineering Laboratories. His primary roles are providing quality technical support on protection related topics in all areas of power system protection and presenting on those topics. He has worked at SEL for 3 years. Prior to joining SEL, Josh spent 6 years as a Relay and Maintenance Engineer at Minnesota Power in Duluth, MN. Josh also spent 2 years as a Power System Engineer for Enbridge Energy in Superior, WI.
He graduated from the University of North Dakota in Grand Forks, ND with a Bachelor of Science in Electrical Engineering.
Larry Chapman, Chapman Metering Company
Larry Chapman is a highly respected, highly qualified instructor having worked in the metering field his entire career. Chapman Metering Company was started in 1960 by Larry's father. Larry started his career in metering by joining his father in the family business and by 1979, Larry had assumed responsibility of running the company expanding their operations into Illinois, Wisconsin, Minnesota, and Missouri. In the early 1990's, the first automated meter reading system showed up in the Midwest bringing a new opportunity to grow the company. A partnership with Nishnabotna Rural Electric Cooperative in Harlan Iowa was created to meet the demand of deploying and retrofitting the new automated equipment and the company relocated to Avoca Iowa, where it is still located today.
Although retired, Larry continues to share is immense knowledge in all things related to metering by continually conducting training classes.
John Thierfelder, EATON/Cooper Power Systems
John Thierfelder is a highly qualified engineer and instructor with many years of experience working with voltage regulators and related products. He has worked for EATON/Cooper Power Systems since May 2000 holding positions such as Design Engineer, Warranty Service Manager and Senior Application Engineer. He is currently the Product Manager of their Voltage Regulators division and an instructor for EATON's Voltage Regulator training school.
John graduated Magna Cum Laude from the University of Wisconsin, Milwaukee with a Bachelor of Science degree in Electrical Engineering.
ACCOMMODATIONS
A block of rooms has been reserved until March 1, 2023 at the following hotels. Mention that you are attending at the Electric Utility Hands-On Workshop. 
Mention Hotel
Blocks at:

Other Lodging in the 
Wahpeton Breckenridge area:

 
AmericInn
2029 210 Drive
Wahpeton, ND 58075
www.americinn.com 
Dakota Magic Casino and Resort
I29, Exit 1 on the ND/SD border
701-634-3000
www.dakotamagic.com
Travelodge by Wyndham
995 21st Ave N
Wahpeton, ND 58075
701-484-0378
Baymont Inn & Suites
1800 210 Drive
Wahpeton, ND 58075
www.baymontinns.com
Select Inn
831 U.S. Hwy 75
Breckenridge, MN 56520
218-643-9201
www.selectinn.com
Rodeway Inn
209 19th St S
Wahpeton, ND 58075
www.rodeway.com
BROCHURE
Click here to download a pdf of the Utility Conference brochure.
Sponsored by 
North Dakota State College of Science
NDSCS Electrical Technology Department
NDSU Extension Service