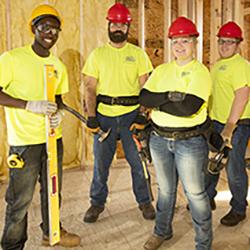 05-12-2016
By Frank Stanko
Featuring four bedrooms, two bathrooms and two kitchens, Red River Cottage was dedicated with a ribbon-cutting ceremony Wednesday, May 11. The cottage is located at 207 Fourth Ave. S. in Wahpeton, and will be used as a group home for Red River Human Services Foundation.
Constructed by North Dakota State College of Science students on land provided by the city of Wahpeton, the cottage is owned by the Eastern Dakota Housing Alliance. It will be managed by Red River Human Services, who will provide resident housing at the cottage.
Read the full article from the Wahpeton Daily News.