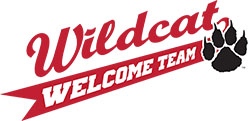 Throughout the fall semester New Student Orientation, WWT members serve as resources and familiar contacts for new students who are making the transition to the diverse academic and social culture of NDSCS. WWT members are some of the first contacts incoming students and their families will have at NDSCS and will assist in creating a positive experience as an introduction to becoming a Wildcat.
Questions?
Please Contact:
Student Success and Career Services
701.671.2258 | Old Main 340
Residential Life
701.671.2224 | Riley Hall
Join the 2022 Wildcat Welcome Team!
Applications for the Fall 2022 Wildcat Welcome Team are being accepted now.
Meet the 2022 Wildcat Welcome Team!
| | | | |
| --- | --- | --- | --- |
| Andy | Annah | Bailey | Dawson |
| Grace | Jess | Marlee | Matt |
off
Responsibilities
WWT members will:
Actively participate in all required events, including meetings, training, New Student Move-in and other events.
Guide students to various locations and program points throughout Orientation and Welcome Week.
Lead discussion groups and activities to help new students develop a sense of connection to the NDSCS campus.
Serve as a friendly role-model for all students.
Answer fundamental questions about NDSCS campus services, facilities, responsibilities and activities.
Be prompt, prepared and positive at all times. Keep staff informed of any and all problems.
Perform other duties as assigned.
Abide by and reinforce all WWT and College policies, and the Student Leadership Quality Standards.
Participate in the evaluation and follow-up process.
Qualifications
WWT members must:
Be currently enrolled as a student (for the Fall 2022 semester).
Be in good academic standing (minimum 2.0 cumulative GPA) as well as good disciplinary standing (not on behavioral probation) at the time of executing position responsibilities.
Be able to attend training and be present for identified Orientation and Welcome Week Events.
Have excellent communication and customer service skills.
Have an appreciation for and ability to work with people of diverse personalities and backgrounds.
Demonstrate a genuine enthusiasm for NDSCS.
Work to problem-solve and resolve conflicts effectively.
Be able to exercise good judgment while keeping the well-being of the participants, the Orientation program and NDSCS as a top priority during decision making.
Have a desire to work with new students, families, faculty and staff.
Benefits
WWT members will receive:
Valuable leadership experience and enhanced leadership skills.
Personal satisfaction from helping new students and their guests.
The opportunity to work with a diverse group of people and to make friends with fellow WWT members.
Opportunities to network with NDSCS administrators, faculty, staff and Wahpeton community members.
$100 in Wildcat Bucks.
Early move-in to campus residence halls at no charge.
WWT gear (WWT Polo and other).
Meals during training and New Student Move-In.
Required Dates & Events
Kickoff meeting in April - date TBD
August 17-19: Training (morning - late evening)
August 20-22: New Student Orientation & Welcome Week activities (morning - late evening)
August 23-25: Welcome Week activities (evening only)
Wrap-up meeting in September - date TBD
Apply to be a WWT Leader today!
Interested in becoming a WWT leader?
Applications are currently being accepted.
If you have questions, please do not hesitate to contact Student Success and Career Services at 671-2258.