off
Chef Training and Management Technology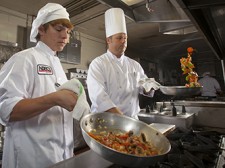 The Culinary Arts curriculum provides students with a broad range of study that enables them to be employed in a large variety of occupations within the food service and hospitality industry. Students learn quality food preparation, service techniques, organizational skills, and are exposed to all aspects of the industry.
Type: A.A.S. degree, Diploma
Locations: Wahpeton
Cluster: Hospitality and Tourism
Restaurant Management
This option is designed as a third-year option for students completing the Culinary Arts program. It provides a range of business knowledge and experiences that will integrate well with the skills students have already achieved, preparing them to take on supervisory roles in their employment.
Type: A.A.S. degree, third-year option
Locations: Wahpeton
Cluster: Hospitality and Tourism