off
Autonomous Systems Technology (AST)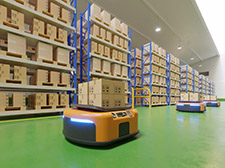 The Autonomous Systems Technology (AST) program is designed to provide students with the introductory technical knowledge, skills, and abilities necessary to succeed in industries utilizing ground-based autonomous systems.
Type: Certificate
Locations: Wahpeton
Cluster: Manufacturing
Autonomous Systems Technology (AST) are systems that typically operate without human control and are designed to increase efficiency and safety. Typically autonomous systems act independently, learn, solve complex tasks and can react to unpredictable events
This certificate program will give an understanding of how the basic systems work, basic set up, and diagnostics. AST graduates can find careers in industries including:
Manufacturing
Transportation
Defense
Agriculture
and more!