A New Kind of Two-Year College For a New World of Careers
The world is changing rapidly. NDSCS isn't just changing with it; we're out ahead, giving our students a lead-in to high-paying, rewarding and challenging careers.

Today's companies are competing in a fast-paced, highly technical and sophisticated global economy, and they need a new kind of employee to succeed. They're looking for people who can work with their heads as well as their hands, who can adapt and create solutions that improve efficiency and productivity. They call them "knowledge workers," and educating them – educating you – is our specialty.

NDSCS is "old school" and "new school" at the same time. For more than a century, we've been educating people for successful lives through hands-on, student-centered programs. And we also have the most advanced technologies, equipment and learning environments around. We're a leader in forming partnerships with employers in agriculture, business, construction, health care, manufacturing, transportation and other fields where there is a strong demand for knowledge workers. These companies help NDSCS keep pace with or get ahead of the real world. At the same time, they expand opportunities for students in terms of expert instruction, cooperative education and networking.

With an NDSCS education, you'll move into your career or the next step in your educational journey faster and for less money. The fact is, it doesn't matter how quick or cheap you get there, it's how good you are when you arrive. Our graduates arrive prepared to jump right in and make a difference. If you doubt it, all you have to do is ask the companies that employ them.

I've been involved with NDSCS as a coach, instructor, administrator and parent of two children who are now alumni. Things have changed since I first stepped on campus back in the early 1970s, but one thing hasn't and never will. At NDSCS students come first, and we'll do everything in our power to help you succeed.

So check out NDSCS, a two-year college that has launched thousands of successful careers and lives. We can do the same for you.

Dr. John Richman
President
off
Biography
John Richman, Ph.D. - Ninth President of the North Dakota State College of Science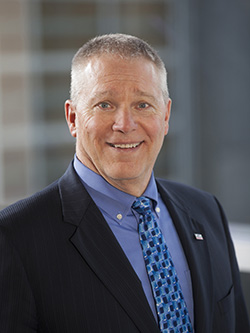 Dr. John Richman is leading the charge at the North Dakota State College of Science to attract, educate and train the workforce for the state of North Dakota and beyond.

When Richman became our ninth president on February 20, 2007, he brought with him a unique perspective on the college and its potential that is the result of nearly four decades of association with NDSCS. A native of Lebanon, Ind., he first set foot on campus as a student in the early 1970s, and over the years he has been an NDSCS coach, instructor, administrator and the parent of two children who also attended NDSCS.

Immediately following his appointment, President Richman began implementing initiatives to improve NDSCS and its offerings with a heightened focus on becoming more accessible to a more diverse student population. More importantly, his drive to turn NDSCS into an engine for high-tech workforce and economic development has spurred numerous positive changes for our students, staff, faculty and the state of North Dakota.

Among President Richman's accomplishments is the creation of the state's first Journeyworker Track program, which provides credit for apprenticeships that can be applied to fulfilling the requirements of an A.A.S. degree. Under his leadership, NDSCS also has created Credit for Prior Learning in many other courses of study. President Richman has worked to advance Instructional Technology on campus so students have access to course information 24/7 and to reinforced the administration's support of the course placement policy and the First Year Experience course requirement.

In addition, President Richman is ensuring that NDSCS students work with the latest technologies and equipment in the most advanced learning environments. For example, he led the effort to remodel Horton Hall into a cutting edge learning facility. The U.S. Green Building Council LEED® certified structure includes intelligent classrooms, modern material testing labs and dozens of high-tech, sustainable features that make the building itself a world-class teaching tool.
In April 2012, NDSCS kicked off the $10.3 million Bisek Hall expansion project which was completed in August 2013. It is one of the largest diesel technician educational facilities in North America. With the new addition, the total space allocated for the diesel technician program more than doubled to nearly 120,000 sq. feet, allowing the College to increase the program's enrollment by 20 percent. The expansion is energy efficient and fully equipped with high-tech equipment and instructional technology.
Thanks to state funding supported by the North Dakota 63rd legislative session, the $8.4 million Old Main remodel was completed in August 2015. After 18 months of renovations, the 124 year-old building that started it all has been restored and boasts a number of improvements, combining old architectural elements with today's new technology. And perched atop the building, the famous Old Main S's continue to cast their warm glow and light up the evening skyline.
In October 2015, NDSCS celebrated the completion of the Earl "Skip"  Bute Alumni Stadium reconstruction. Capital for the Stadium reconstruction was collected through several private donations from alumni and friends, fundraising efforts and the Locker Room Campaign as well as from the Wahpeton High School. The $1.5 million Stadium renovation resulted in a new retail outlet for the NDSCS Bookstore, an updated concession area, revamped locker rooms, a new training room and equipment storage area, a larger and more functional Catbacker room, renovated public restrooms, new cement, an updated water and sewer system, and a new ticket booth resembling the iconic Old Main steeple.
President Richman is focusing on increasing our students' degree attainment while remaining accessible and affordable as we become more accountable to our stakeholders.

Under President Richman's leadership, NDSCS is expanding its footprint in Fargo and West Fargo at the NDSCS-Fargo location. He is also dedicated to advancing the College's partnerships with business and industry--an effort he believes will enhance the educational and employment opportunities for students and will fulfill the business and industry need for technically savvy employees.

In 2011, Richman was named Trustee of the Board of National Coalition of Certification Centers (NC3), a coalition of education and business partners working to develop standardized, industry-driven certifications across the transportation, energy and aviation industries. The College has worked in conjunction with NC3 since its establishment in 2009 and serves as one of the 11 Leadership Schools.

In 2013, Richman was named to the Valley Prosperity Partnership Group that will research economic, educational and social conditions and needs in the Red River Valley. The group is comprised of 23 leaders from business, education and economic organizations who will develop a plan to exploit growth opportunities in the Valley.
In 2016, Richman was presented with the NASPA Region IV-West Presidential Excellence Award at the organization's regional conference. The organization recognized Richman for embodying "the spirit of the student affairs profession through continually demonstrating his passion and commitment to supporting students' success."
In 2017, Richman was elected to a 4-year term to the Board of Trustees of The Higher Learning Commission.

Prior to returning to campus in 1986, President Richman was an instructor, coach and athletic director in Ada, Minn. and an assistant coach at both Minnesota State University Moorhead (MSUM) and the University of North Dakota. At NDSCS, he has served as our head football coach, an instructor in the Health, Physical Education and Recreation Department, the director of athletics and vice president for academic and student affairs.

President Richman earned his Bachelor of Science and Master of Arts degrees from MSUM and his Doctorate in Kinesiology at the University of Minnesota. He and his wife, Marcia, live in Wahpeton.
President's Office Mission
The mission of the President's Office is to provide the principled leadership to ensure that as a state agency NDSCS serves the state of North Dakota by attracting, educating, training, developing, graduating and placing individuals into the workforce through our career and technical programs, our transfer programs and our workforce training division by consistently and reliably providing a safe, clean, healthy, green, tech-savvy, affordable and educational environment. 

This office ensures that NDSCS sets and meets high expectations as set forth by department and college accreditation and governing agencies.

This office ensures that resourcefulness, effectiveness and continuous quality improvement is occurring in all areas.

The President oversees the continuous responsive pursuit of academic excellence by fostering partnerships, remaining collaborative, focused and purposeful.
Employee Quality Standards
NDSCS has a culture of continuous improvement. The following Quality Standards are part of that culture and guide us in the way we interact with each other and with our customers.